The best… Mince Pie on the Mountain!
History of Ye Olde Minced Pie
Pies created from a mixture of sweet and savoury foods can be traced through English history from shrid pies and mutton pies (with meat, fruit, suet and spices) in the early 1600's to minched pies and christmas pyes by late 1700's.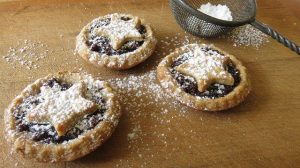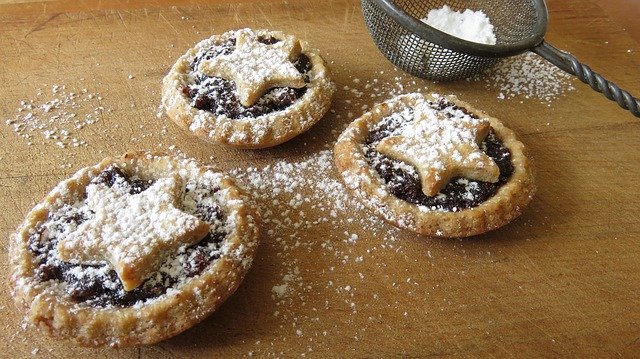 M&S now sell over 23 million mince pies each Christmas. Greggs will probably surpass this and create an 'on the go' gluten and suet free one this year after the sell out success of their vegan sausage rolls. On the go you say?
Benefits… of taking a mince pie up the mountain
Festive AF! ('and fabulous', what did you think we meant?!)

Compact and pocket size yet filling and high calorie (carbohydrate and natural sugar)

Mountain slope snack: Good with cheese (and a flask of coffee) or scoff on the lift

Afternoon Tea: Warm up and add a dollop of cream and a cuppa back at your chalet

Freezable!
If you like to travel light and grab a ski pie en route then good luck… They're not that common to find in France, let alone the Alps (unless you get a minced croissant from Paul, the French bakery chain). However, we've handily remembered where we snaffled some last Christmas – on and off the hill!
Recommendations… for a mountain mince pie
Morzine, centre: Satellite Coffee (cafe)
Les Gets, Mont Chéry: La Grande Ourse (restaurant)
Avoriaz, Ardent: Happy Hours (bar)
!Winter Warnings!
To recap, Mince pies are a rarity.

After Christmas week Mince Pies are extremely hard to come by.

Minced meat is not common in supermarkets so bring your own jar or be prepared to make it from scratch.
The best bet is to make your own (or in any case, for back up). Here's the simplest version out there, plus some Mountain Xtra ideas to 'pimp your pie'.
Faff-free Mince Pie recipe 
225g cold butter (diced)
350g plain flour
100g golden caster sugar
280g mincemeat
1 small egg
icing sugar (to dust)
Mountain Method
Preheat the oven to 200C/gas 6/fan 180C. 
Rub the butter into the flour, mix in the sugar and a pinch of salt.
Knead the pastry into a firm ball (don't add liquid). Use immediately or chill for later.
Line your tins and press a ball of pastry into each dip.
Spoon the mincemeat into the pies. Pimp your pies at this stage if required! (See below*)
Take slightly smaller balls of pastry than before and pat them out between your hands to make round lids and cover the pies, pressing the edges gently together to seal.
Beat the egg and brush the tops of the pies. 
Bake for 20 mins until golden. Leave to cool in the tin for 5 mins, then place on a wire rack.
To serve, lightly dust with icing sugar. They will keep for 3 to 4 days or can be frozen for up to 1 month.
*Pimp your pie and add your own…
spices (ginger, cinnamon)

extra fruit (plums, cranberries)

liquor (spiced rum, sherry)

protein (chia seeds, cheese)

other (chocolate)

Veganese (pastry / suet)
N.b. careful if adding nuts; they are drying as well as a choking/allergy hazard.
All of our self catered chalets at Mountain Xtra have fantastic kitchens with full size ovens perfect for baking your own pies and all properties have proper cosy lounges! So come pie with us!
#MincedPie #MincePie #ChristmasPie #PyePye #SuetSanta #SantaShrid #Minched