Winter Olympics 2014!
There's a buzz in the air in Morzine at the moment as we're over halfway through the 2014 Winter Olympics! It's amazing being able to watch the games from here, as they inspire you to get up the mountain and get better! We've had quite a lot of snowfall over the last week too, so the conditions are fantastic.
Germany is currently in the lead with 7 Gold medals, with the Netherlands coming in at second place with 5 Gold, but holding the most medals overall with 17! Norway is currently ranking third. Of course this could all change, so keep up to date with the current medal count here!
Jenny Jones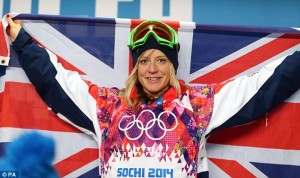 Jenny Jones made history by winning Britain's first ever Olympic medal on snow. In the Ladies Slopestyle Final for snowboarding, Jones performed spectacularly with what looked like effortless spins and grinds, earning herself a bronze medal!! Now, we don't have many mountains in England, and Jenny herself is from Bristol, making her achievement even more incredible. She didn't even strap into a snowboard until she was 16, and that was a on dry slope, and she is currently 33 years old, at least 6 years older than all the other competitors in the final! Jones is the perfect representation of what you can achieve if you give it your best. She didn't grow up in the mountains like Jamie Anderson (who won Gold!) and she was the oldest by far, but despite all of that, she managed to bring home a medal for Britain! Well done Jenny!!
Elizabeth Yarnold
Elizabeth Yarnold earned the first Gold medal for Great Britain in this years Winter Olympics in the women's skeleton with a time of 3min 52.89sec, nearly a second faster from 4 runs overall than her runner up Noelle Pikus-Pace (US). In the history of the winter games, it is the 10th Gold medal ever won for GB. If that's not impressive enough, she is one of only 3 British women to ever have won an individual gold!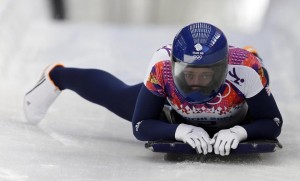 I bet some of you are watching the Winter Olympics and itching to get up the mountain yourselves! I know I would be. If so, we still have some properties available for weekly rental, at some of the lowest prices in Morzine!
Chalet Gingerbread sleeps 6-8 people, is right in the centre of Morzine, and we still have some availability in March!
W/c 8th March only £1400
W/c 22nd March only £1400
W/c 29th March only £1000!
https://mountainxtra.com/properties/gingerbread/
Or apartment Nantaux sleeps up to 4 (or 6) people and is available from this weekend (23rd February): https://mountainxtra.com/properties/le-nantaux/ Prices starting from £500 per week!