When will I ski again? 
Are you at home, tired of all the lockdowns looking out of the window fondly reminiscing through your rose tinted memories of winter holidays gone by?
What were the best bits that spring to mind from your last amazing ski holiday?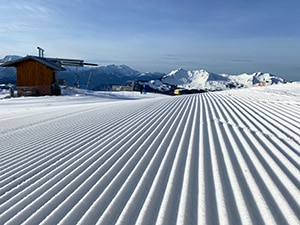 Getting first lifts on a fresh sunny morning, seeing the sun rise over the skyline, then racing as fast as you could down a perfectly freshly groomed crisp corduroy piste?
Perhaps you hiked up to the highest peak. Did you stand there for a few magical moments, king of the world with your arms out basking in the glorious winter sunshine and looking down on the white winter wonderland below you, before taking the obligatory scenic selfie to send to your mates? Then locking your boots into your bindings and rewarding your sterling physical efforts with one glorious perfect virgin powder run?
Maybe it was that day when you "did the tour" starting early(ish) then racing round the whole resort coving more km's than you could have imagined. Ticking off piste after chair lift, after piste, before eventually collapsing in the welcoming chair of your favourite mountain restaurant and indulging in a hearty mountain meal followed by a classic French tipple?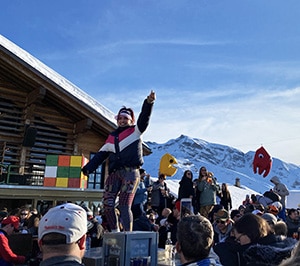 Or were you the apes super star? Was it a sunny day, late start, maybe a few runs first….. maybe not? But then …Le FOLIE DOUCE! Big sunglasses, big drink (was it was the whole bottle?) and dancing on tables pulling your best shapes to the groovy euro beats with that all important index finger flying high pointing at the sky! Holiday fun for everyone! 
Or it may be that you were more extreme? By daylight you were in the snow-park, practicing new ticks and or course laying down your tried and tested classics, by night you crawled the best bars and after dark parties?
Maybe it was the people you were with that made your last holiday? There's always something about being away from your normal surroundings that makes those precious moments you spend with your family and friends on holiday all that more special! Time doesn't matter, deadlines don't exist, just love and fun and ski and sun! 
When will I ski again?
ANSWER: …More likely next winter! As I write this we wait for further announcements but it appears less likely that French resorts will open this February as originally hoped. Plus if you live in the UK, then you may well be in yet be in "another" lockdown, new quarantine restrictions have come into force in recent days and ever stricter rules and restrictions on international travel are being introduced. 
HOWEVER! …The BEST NEWS is that vaccines are here! WOO HOOOOO. So as the world rolls out the medicine we need, then holidays and mountain adventures can gradually recommence. Given the current information that we have at time of writing we believe next winter (2021 / 2022) will happen for you. Travel restrictions should be lifted, therefore it will be, THE ski season to plan for! And what a season it will be! Restaurants, bars & clubs should be open and all the ski lifts running, servicing the 650 km's of interlinked pistes of your favourite ski resorts of Morzine / Les Gets and the rest of the Portes du Soleil. The destination of choice. 
So don't just dream about it, actually plan it, get the dates locked in now.

 

Dig out your winter kit make sure it all fits.

 

Wax your skis and snowboards.
Consult the calendar with your friends and family and plan the holiday of life time! …Many weeks for next winter 2022 are already selling out. Don't miss out, make your reservation ASAP on your next best ski holiday ever!