There's more to Morzine than Skiing…
Morzine and Les Gets offer far more than skiing and boarding in the winter. We have complied a list of our favourites for you below. Trust us when we say you can enjoy these just as much, if not more, than being on a pair of skis.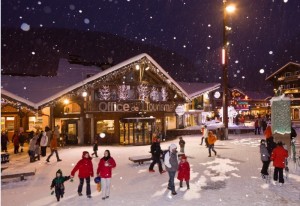 Swimming:
Morzine's aquatics centre in the valley is something every mountain lover should experience. We recommend using the centre mid-week when you could really do with some relax time, or on a poor weather day. It's great to keep the kids entertained and to gain some muscle relaxing time. You can enjoy a 25m heated pool, paddling pool, a choice of 3 saunas and 2 steam rooms. There is also a restaurant and steam room. Entry from 5€.
Snowshoeing:
Snowshoeing is quickly becoming a favourite amongst those living here, but can it offer the same for those on their holidays? We say YES, and more… There are a few great company who will supply your kit, a guide and even a packed lunch to eat on the mountain, with everything from half day walk to 2 day treks. This is a great family activity that will get you seeing more of those gorgeous mountains.
Ice Diving:
This isn't one for everyone, but for those wishing to try something truly individual, then this is a must. Take the plunge under the frozen lake and see a different world!
Shopping:
Morzine and Les Gets have some great shops, with everything from designer clothes to those must have gifts. Simply bring an empty case and get all your winter and ski gear here!