Summer in Morzine
Summer in Morzine
Many people like to spend their summer holidays somewhere hot and seaside resorts are usually the most common holiday destinations. However more and more people are starting to realize that summer in the mountains has way more to offer than just a beach!
Don't get me wrong, I love going to the beach occasionally, but sometimes I can get bored of just lying around in the sun.
Morzine has the best of both worlds. You can have your lazy days, working on your tan, swimming in the lakes, all while surrounded by beautiful mountains and it's wonderful! Lake Montriond (photo on the right) is the perfect beach replacement, a popular place for sunbathing and swimming!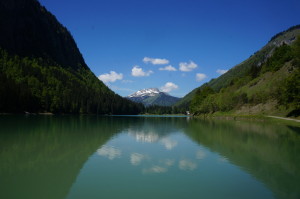 You can also have adventure days, where you wake up and have to make a choice between all the fun things there are to do. The range of activities on offer in the summer is incredible: mountain biking, road biking, climbing, hiking, paragliding, canyoning, white water rafting, kayaking, horse riding, swimming, treetop adventure courses (like Go Ape) and so much more. The hardest part of the holiday is trying to decide which ones to do, as there are far too many to fit into just one or two weeks!
Now I know I am biased, as I have spent 3 summers in Morzine now, but I have done so many incredible things here that you can't do on a beach! I've been mountain biking, climbing, canyoning, white water rafting, paragliding, zip wiring, canoeing and more, and I have attached some photos below to prove it!
Compared to the winter, there are much fewer people in the summer, so the atmosphere is more relaxed. There is a thriving community made up of local French 'Morzinois' and English expats that live here all year round, and I know some of them much prefer the chilled-out, summer lifestyle compared to the hectic winter months. Personally, I can't decide which season is my favourite; I'll let you decide yours!
Here at Mountain Xtra, on top of offering very reasonable holiday accommodation, we can also help you with all your extra holiday requirements, including bike rental, discounted airport transfers, lift passes, massages and more!