Staying Safe Off-Piste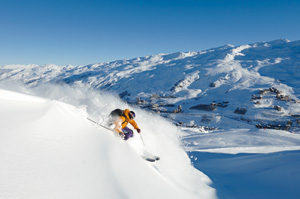 The snow has been falling heavily over Christmas, and we have more due to come over New Year! While of course this is brilliant news, and we're all excited to get out on some powder; we want to make sure you have a great holiday and above all stay safe!
So before disappearing into the unknown to make fresh tracks, read our top tips for staying safe.
Wear a helmet. It just makes sense. You wear one for mountain biking, horse riding and riding a motorbike etc so wear one up a mountain! FYI:  intermediate skiers reach speeds over 30mph, so do choose a decent helmet. More and more people are starting to realize this: a survey by the National Ski Areas Association in 2011-2012 showed that 67% of all skiers and snowboarders voluntarily wear a helmet. If you fall over and knock yourself out, or cause any visual damage on the helmet, then you should replace it. Also every 3-6 years depending on usage.
Always check the avalanche risk before you go off-piste. It's rated out of 5, with 1 being low risk (snow is generally very stable) and 5 being very high risk (snow is unstable). You can find the risk rating for various areas online and at most ski lifts/stations. We advise you not to go off-piste when the risk is high! It's just not worth it. Also, just because an avalanche risk is low, it doesn't mean you don't have to be cautious.
Buddy up! Never go exploring off piste on your own; just in case you come into any trouble, your mate can call for help.
Always take a mobile phone, fully charged. The international emergency number is 112. Remember it!
Invest in safety equipment: transceivers (do learn how to use them), a shovel, a rescue beacon and a probe. What's more, you can buy ABS avalanche airbag backpacks (which are quite expensive), but so effective. Out of 262 people with an inflated ABS avalanche airbag, 97% have survived, 84% of them without injury. Watch this video to see how they work!
http://www.youtube.com/watch?v=QSU_CY2VN4k
You pull the cord, the airbags go off and you stay on top of the avalanche. Genius.
Remember! 95 percent of avalanches occur during or within 24 hours of heavy rain or snowfall, and high winds also contribute to avalanche formation, so try to avoid heading off-piste in these conditions. Warm days, with thawing or temperatures near or above 0, are also high-risk.
If you want to find the best snow, we advise you to hire a guide. They will know the best kept secrets and be more clued up on where is safe to go depending on the conditions. Get up early! Don't choose to go exploring on a day after you've spent the night in Opera!
For more information on off-piste safety, book an avalanche safety-training course and read up about it. There's loads more information out there and being clued up could just save your life!