What is split-boarding?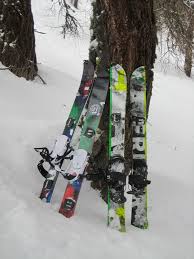 Not that long ago snowboarders wanting to ride deep powder away from the groomed slopes of a resort had to use snow shoes to travel uphill. Our skier friends climbed much more quickly, used far less energy and subsequently enjoyed more runs each day out touring. But thanks to the invention of splitboards the playing field is now even…
A splitboard is a essentially a normal snowboard which splits into two halves. These halves become skis for travelling uphill. To stop the rider sliding backwards a hairy "skin" is attached to the base of the skis to provide traction. Once at the top of the slope, the rider removes the skins, attaches the two skis together and it transforms back into a snowboard ready for a well-earned descent through untracked powder.
In the early days riding a splitboard felt somewhat heavy and cumbersome. However, these days they can provide a ride that's just as sweet as a normal snowboard. They are no longer super heavy and some have features like reverse camber – which provides a lovely floaty and responsive ride. Additionally, there are now splitboard specific bindings that have further enhanced the splitboard experience.