Is skiing now too techy?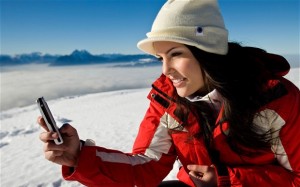 It now seems like years ago when you would head to the mountains to enjoy the silence and solace of the mountains and snow. Forget all the technology. Mobile? Even if you had one you would struggle for any signal. Laptop? There were very few places where you could enjoy Wi-Fi. MP3 player? You would take your Sony Walkman and realise you only had 1 CD or tape and would be sick of it after the first hour.
For me, that's the allure of the mountains… the grand gift of silence. A chance to take a break from the phonecalls, texts, whatsapps, snapchats, tweets, emails and Facebook. A chance to give the kids the experience of the outdoors without their Nintnedo 3DS or iPad. Skiing and snowboarding are so exhilarating because you're totally immersed in the moment; the air is cold on your face, the snow feels firm beneath you, your thighs are burning and you're focused on the here and now. But have those days gone?
I must say, things have been made much easier with advances in technology. I no longer have to struggle to take my gloves off to use my camera-phone with their touch sensitive technology in the fingertips. However, the likes of GoPro now record every painfully slow descent of your friends' day which you're forced to watch at the end of the day!
Whether you share these views or not, it is undeniable that the amount of people on the mountain updating their Facebook status or sending photos of those blue sky days to friends at home has become overwhelming. And with the likes of augmented reality goggles with GPS and Head Up Display it's only going to get worse…