Why ski in Spring?
1. It's cheaper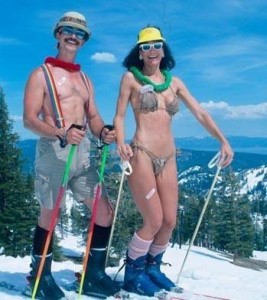 Late season is low season, so lift passes and accommodation cost considerably less than during mid-winter. We've got limited availability with some great deals! Head over to the bookings page to see what takes your fancy!
2. It's quieter.
Skiing and snowboarding in late season means fewer people on the slopes, and less chance of lift queues. If you've ever been in the February half term you'll know how busy the slopes and lifts can be! give that all a miss and get the most our of your holiday.
3. It's sunnier!
In general the weather is more pleasant towards the end of the winter – so you can expect more sun, longer daylight hours, and longer lift opening times; enjoy the BBQs and beer drinking that takes place on the sun terraces of slope-side cafes and bars.
If you take one of our luxury properties with a hot-tub you can really take advantage of that great weather!
We love the post-February skiing, the later apres, the glorious weather, the sitting outside of bar Robinson with that cool pint of Mutzig! Get the picture? We can't wait for you to join us…