Ski safety: avalanche survival tips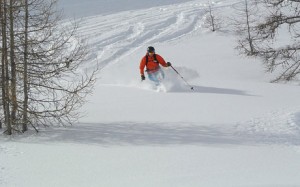 We wrote earlier this month about the "explosive" avalanche situation across the region, following a snowfall of 1.5m across France, and over 2m in Avoriaz. The snowpack was deemed "extraordinarily unstable", with an exceptionally icy base due to the poor start of the ski season.
As we head into the later part of the ski season, below are top tips from Henry Schniewind, an avalanche expert, on how to survive dangerous situations:
1. Know the danger rating definitions for the five international avalanche danger levels: 1 – Low, 2 – Moderate, 3 – Considerable, 4 – High, 5 – Extreme
​2. ​Read the official avalanche forecast bulletin for your ski area ​the evening before you head out​
3.​ Go with people who have a similar approach to having fun and being safe off-piste
4. Equipment: Have all of the essentials with you – avalanche transceiver, probe and shovel needed to get your friends out from under the snow in 15 minutes or less – after 15 minutes buried under snow, the chance of surival decreases rapidly.
5. Train with the safety equipment. ​Do a two or three hour practical session on how to use your safety equipment and refresh yourself each year.
​6. The phone numbers of local rescue services: have all of them on your phone
7. Routes: Have a good idea of the area and routes you'll be skiing (using maps, guide books and your personal experience) so you don't end up stuck on a cliff.
8. Slope angles: Know how to identify slopes of 30 degrees or more, on which the majority of avalanches occur.
9. Talk to local professionals like the ski patrol (piste patrol) to get insider information on the area.