Shaun White in Morzine-Avoriaz
If you didn't already know, Shaun White will be appearing in Avoriaz next weekend for the opening festival. He will performing with his band the 'Bad Things'.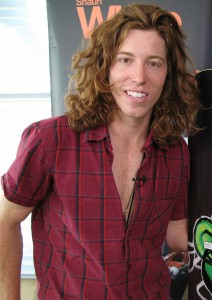 If you don't know much about him, let us fill you in…
Shaun White was born in San Diego, California in 1986. He spent most of his childhood riding Okemo Mountain and Bear Mountain in a small ski resort found in Ludlow, Vermont.
At the age of nine he caught the eye of Tony Hawk, who was to go on to mentor him and help him turn a pro skateboarder by the age of 17. White's snowboarding career began at age seven, when he received his first sponsorship. His meteoric rise to fame came after participating in three Winter Olympics (2006, 2010 & 2014), winning gold on the halfpipe in both 2006 and 2010. White finished fourth at the 2014 Winter Olympics in the Halfpipe event. During the winter games, he was the most talked about Olympic athlete on Facebook.
Including all winter X Games competitions through 2013, his medal count stands at 18 (13 gold, 3 silver, 2 bronze), among which is what he is known best for… the first quadruple win streak by a male athlete in one discipline, the snowboard slopestyle and at Winter X, White became the first person to score a perfect 100 in the men's Snowboard Superpipe in the history of Winter X Games.
Make sure you get yourself to the free concert in the centre of resort – kicks off at 17:00 Saturday 13th!