Pre Ski Holiday Check List
The time has finally come, the week you've been looking forward to all year. You've booked your accommodation, your flights and your transfers, and it's a few days before you fly. However your excitement is dampened slightly by the thought of having to pack….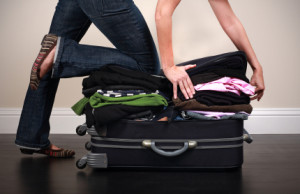 Fear not! We have put together a foolproof list of the essential items you must NOT forget for your week in the mountains.
Ski/Board Equipment (If not renting) – Skis/board, boots, ski poles, screwdriver for tightening/adjusting bindings.
Ski gear – Ski jacket, ski pants (x2), ski socks (a lot), scarf/buff (neck warmer)/balaclava, hat/helmet, sunglasses, goggles and gloves.
Clothes – You're going to need warm clothes, even when you're not up the mountain. That means thick jumpers, thermals, woolly socks etc.
Snow boots – Essential for walking into town etc.
Slippers – Chalets/apartments often aren't carpeted. So unless you want cold feet in the morning, bring some fluffy slippers!
Extra socks and underwear! – You're going to end up with wet feet and possibly a wet bum (especially if you're a boarder), so a few spare pairs of everything is needed.
Tissues/goggle wipe – Goggles can get steamed up in certain weather.
Insurance documents – If you haven't booked travel insurance yet, then do it! It would be sod's law that the one year you forget to book insurance, you have an accident, or lose all your luggage. Also, make sure you get good ski and snowboard cover; it wouldn't hurt to include helicopter mountain rescue either!
Usual toiletries – shampoo, conditioner, shower gel, deodorant toothbrush, toothpaste, first aid kit, ibuprofen etc…
Suncream (and aftersun!) – The French Alps are not a stranger to sunshine, and snow reflects approximately 85% of UV radiation back up at your face. So if it's not covered up, then slap on at least SPF 30!
Hand cream – The weather conditions could be harsh, and your hands will be going from hot to cold constantly, leaving dry, sometimes even cracked hands.
Lipsil – Same as above reasons, cracked lips just aren't nice for anyone.
Plug adaptors – you'll need at least a couple of these.  I would recommend bringing a UK multi-plug socket, and the just plug that into your French adaptor.
Mobile Phone + charger – Always a must! Don't forget to set your mobile to international roaming before you go so you can use it abroad and always take your phone up the mountain with you charged on a full battery (if you get lost or into any trouble it could just save your life F.Y.I the international emergency number is 112 – save it now).
Hairdryer – Girls, check first to see if your accommodation has one already, could be a space saver if they do.
Passports/plane tickets etc… – Obviously.