Morzine Après ski guide – Our pick of the best
Morzine is ever changing and over the past few years we have seen some huge investment into the après ski scene. No more so than the re-opening of Le Paradis Nightclub this season in the old town! Here's our pick of the best that Morzine has to offer.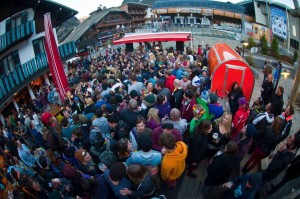 Le Tremplin
With its dominating position at the bottom of the Pleney lift it's hard to miss. A great open, heated terrace provides the base to what must be the best Après in town.
Bar Robinson
A legend in its own right. A visit to Morzine isn't complete without a visit to Bar Robinson and the original Mutzig beer. Be aware, this is strong stuff!
Dixie Bar
Sports fan? Dixie bar is your place, every game, match and tournament is played on one of its many screens.
Chez Roger's
The underdog. Chez Roger's has come from being a small local's bar to one of the busiest bars on the Rue de Bourg. Roger is there himself most nights and is a real joy.
Le Crepu
A great hangout for a more chilled evening, great range of beers and spirits with a great outdoor terrace.
Tibetan Café
A very cool spot and popular all year round. The attractive bar staff are worth the visit alone!
The Cavern
Sitting below street level, The Cavern is one of the best Morzine has to offer. Great staff, great drinks and great music. The party goes on till late, so make sure you're allowed out for the night…
L'Opera
Until this year, l'Opera was Morzine's only nightclub. With a glowing dance floor and cages to show off your best moves, this is definitely one place you NEED to experience.
Le Paradis
Re-opening its doors this year for the first time in over a decade, Le Paradis will be guaranteed to offer a great night in the Old Town. Let's hope it's just as good as we all remember it!