Let the Season… begin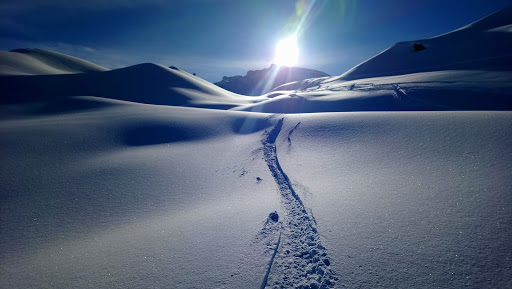 Worth the hike from the main lift for the freshies – and a bluebird day to boot. (Saturday 30th November 2019)
On the first day of Christmas, Avoriaz 1800 had so much snow that they opened some of the lifts early… not only did this actually happen but it was November!
BlackFriday was soon overshadowed locally as it became clear that it was time to dig out kit for a WhiteRideDay.
Saturday 30th November saw a partial opening for the weekend and the weekends to follow – all well ahead of the typical mid December schedule. We'd been teased a week earlier with news across the Portes du Soleil that some resorts on the Swiss side had earlier than usual openings – but driving around the mountain AND paying for a day pass didn't appeal. When the opportunity was announced that this would be extended to our doorstep, with local offices open for lift pass collection and free parking to boot, it was totally magical.
It was pretty busy at the bottom of the TC Prodain Express (even without the seasonal bus service) but that got lots of lift pass collection out of the way. With the other main lifts operating; TSD Lac Intrêts – for access to the Arare and TSD Choucas (at 2162m, giving hike access to Fornet) and TSD La Tour – so you could circle the Avoriaz Village and end up at Les Trappeurs – which was open for Après! Although the rest of the lifts remained still, it didn't become silly-busy as only the local faces in resort were up on the hill.
We have to admit, there was an assumption amongst friends that there would be 'just enough' snow at this time of year… but the conditions were absolutely incredible.
It continued to snow overnight and into Sunday 1st December, so much so that the snow cannons that were dug out of the 23cm of fresh snow the day before, were buried again! TSD Lindarets was also running, opening up that side of the bowl. It was thirsty work in the deep powder (145cm at the summit, 75cm at the base) but luckily Chez Flo took a turn to open in Avoriaz for refreshments.
The following weekend saw another dusting with further lifts and eateries open – most excitingly TC Ardent, TSD Prolays and the TSD Chaux Fleurie, giving access to the Châtel ski area (as well as TSD Choucas again for the Champéry-les-Crosets area on the Swiss side). Other additions were TK Chapelle for the park rats and TSD Proclou, opening up the beginner areas.
Perhaps this is a sign of things to come – seasons starting earlier as the climate changes? One things for sure – we were forecast an epic Winter and the mountains have already delivered.
It's certainly shaping up to be an excellent season and looking like a Winter Wonderland already. Plus we're super excited to soon discover the Xtra new lifts and runs for Winter 19/20.
The Pleney ticket office is now open everyday and lifts are due to open fully on Friday 13th December in Avoriaz, with Morzine and Les Gets following a week later on Saturday 21st December. 
Come ski with us at Mountain Xtra – we're ready for you!
#FirstLiftsDay #WhiteFriday #XtraFreshies #NovemberAndDecember #WeekendWonders #lovemorzine #morzine #avoriaz #lesgets #loveavoriaz #earlywintersnow #snow #winter #ski #snowboard #powder #selfcatered #skiholidays #skichalets