The Great Helmet debate
We all have our own views on helmets. I think most would probably say that they wear them out of choice and it's up to the individual. Ski resorts in Italy and now Austria enforce a law requiring all children under the age of 14 and 15 respectively to wear helmets, or face fines. Nova Scotia has gone one further requiring every skier or boarder, no matter what their age, to wear helmets.
The debate is a fierce one, with both sides producing reasoned arguments. The fact remains that every year, thousands of people head for their snow fix in the mountains around the world without a helmet. Rightly or wrongly, we've laid out the best of the arguments below. Let us know your thoughts…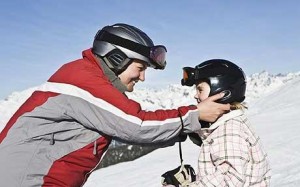 For:
n 2009 the dispute really heated up, when the actress Natasha Richardson died after a head injury on a beginners slope. Then in the same year, a woman died in Austria after she collided with another skier.
These deaths perfectly illustrate the opinions of many experts, who say that ski helmets should be made compulsory on slopes around the world. Beginners are far more likely to slip and hit their heads while they are learning, and head injuries can be extremely serious and even life threatening. On the other hand, if skiers wear helmets, then the seriousness of a head injury can be reduced from life threatening to a mere concussion.
Experts do not stop here, even black run pros should wear helmets, because it is not the simple matter of your ski skills, you have to be aware of the people around you. Every year more and more people head for the slopes, and this overcrowding means that these people could easily lose control or get too close to you, and potentially cause you a serious injury. The ski slopes often look more like obstacle courses!
Against:
Many experts and skiing enthusiasts argue that wearing a helmet can actually reduce your awareness, affecting your vision and hearing. Furthermore, apparently wearing a helmet can also induce a false sense of security, so skiers who wear helmets actually take more risks because they feel protected.
People against ski helmets also argue that their effectiveness has not been conclusively proven, and that currently, head injuries account for a very small portion of accidents on the slopes. (However, it is important to note that head injuries are extremely serious when compared to the higher number of torn ligament injuries).
As far as kids are concerned, both camps agree: it is vital to protect the more fragile skulls and developing brains of ALL budding young skiers and snowboarders.