What is the attraction of Ski touring?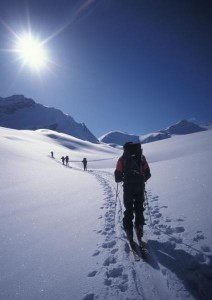 It is becoming increasingly popular as people shun the lifts. In part it is fitness, also to access areas the lifts do not go and to reconnect with the environment.
Ski touring is a term used to describe the activity of travelling through snow covered terrain, using skis to go both uphill and downhill.
In order to travel uphill on skis, alpine ski-tourers use "skins", which are stuck to the bottom of the ski – these allow the ski to glide uphill, but not slip back down. At the top of the hill, the skins can be removed, and the slope skied downhill in a similar way to a piste skier in a ski resort.
Ski touring can be practised anywhere there is sufficient snow, but the Alps are the main destination for most UK based ski-tourers, during the main season which runs from late December through to May or early June. The style of trips can vary from day tours (always returning to a valley base overnight e.g. a chalet or apartment) to hut-to-hut tours (where the nights are spent in mountain huts).
Ski touring can be hard work, with long uphill sections, and sometimes very difficult skiing on the descent if the snow isn't as good as expected. However, the effort is well worthwhile to give access to the pleasures involved – the thrill of making first tracks on a long descent well away from the rest of civilisation with remote and pristine mountain scenery all around.