3D high resolution piste mapping has arrived
FatMap.com have released the most ingenious piste map app we've seen. If you haven't heard of it yet, make sure you at least take the time to look it up in your app store, even if you don't buy it (and we can't think of a reason why you wouldn't).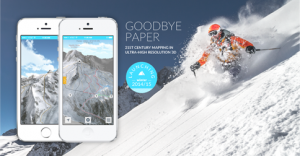 We've all been there, stood at the top of a piste, turning the map in circles trying to get your bearings and find the right piste to get you to that oh-so-special mountain restaurant you've been told about.
Well now there's no need to look so awkward on the slopes. FatMap.com deliver a very intuative 3D piste map for both on and off piste.
uses high-resolution satellite imagery to offer features never before included on a humble piste map. The technology enables skiers and snowboarders to negotiate their way around popular ski areas in a high level of detail, moving around a 3D world using GPS-enabled navigation, viewing the slopes from any angle and perspective.
Two types of Fatmap are available – a piste version and a freeride version – to suit different kinds of skier and snowboarder. Both of these include route descriptions, 3D fly-throughs, interactive information on resorts and snow conditions, real-time location sharing and ski tracking and stats features. The fly-throughs are particularly ingenious, enabling you to see and explore a prospective line before you ski it. Bought as an annual subscription, maps are updated automatically throughout the year.
The freeride version has additional high-tech extras such as information on off-piste routes, gradient heat mapping (which allows you to see the steepness of the terrain), altitude segmentation (which helps users determine the quality of the snow and risk of avalanche) and details of crevasse zones and avalanche zones to help enable better-informed decisions when venturing off piste. There's information on how to safely ski off-piste lines, but the app does not replace the need for a mountain guide for most users.
Enjoy!